When we have an anchor in ventral, we can then go visit sympathetic and dorsal without being hijacked by it.
In this episode of Therapist Uncensored,
Co-host Sue Marriott explores the intersection of Polyvagal Theory, neuroscience, and attachment with Deb Dana. We will investigate how the mind creates stories from information relayed by the nervous system, and how we can rewrite the script to move toward security.
Meeting Deb Dana
Deb Dana is a clinician and consultant who works with trauma
She has a training program called the Rhythm of Regulation
Goals of this: understand the nervous system and help people become active operators of their own system
Story Follows State
The mind narrates what the nervous system knows
Therapeutic goal: bringing explicit awareness to implicit processes
Neuroception: our nervous system has a response to what is going on in the world and looks to others for cues of safety and danger
The brain tries to make sense of what is happening in the body on a physiological level by making up a story
Many of us have nervous systems that are shaped by experiences to be wary of connection; this is something that we work on shifting in therapy
The Nervous System and Attachment
The nervous system services our survival and sets the stage for attachment
We have two survival states:
Sympathetic: mobilized, energetic state- we see red folks here!
Dorsal vagal collapse: immobilized, disconnected state- we see blue folks here!
The Hopefulness in Polyvagal Theory
"Experience shapes the nervous system and ongoing experience reshapes the nervous system"
When shame reduces, curiosity arises
The Autonomic Ladder
It can be helpful to identify where you currently stand on the ladder, as well as track where you are going on the ladder
Ladder orientation from top down- ventral vagal (anchored state), sympathetic (activated state), dorsal (collapsed state)
Take Home Tips
Use your voice! Intonation before information. We send cues of safety or danger through our tone of voice.
Each nervous system is different in how it comes back into repair, and it changes over time.
In a ventral state, there is community.
If you're in trouble, go social! (i.e. send a text, make that phone call, reassure yourself)
Who is Deb Dana?
Deb Dana, LCSW is a clinician and consultant specializing in working with complex trauma and is Coordinator of the Traumatic Stress Research Consortium in the Kinsey Institute. She developed the Rhythm of Regulation Clinical Training Series and lectures internationally on ways Polyvagal Theory informs work with trauma survivors.  Deb is the author of The Polyvagal Theory in Therapy: Engaging the Rhythm of Regulation and co-edited, with Stephen Porges, Clinical Applications of the Polyvagal Theory: The Emergence of Polyvagal-Informed Therapies.
Resources:
Beginner's Guide to Polyvagal Theory
Using the Autonomic Ladder to Work with Perfectionism
The Polyvagal Theory in Therapy: Engaging the Rhythm of Regulation
Stephen Porges's and Deb Dana's Coauthored Book
Who doesn't love special offers?
Our advanced course on attachment and neuroscience has been recently released and is now available for a discounted price! While this course is aimed toward clinicians (CE's available!), all who are interested in deepening security in yourselves and your relationships are welcome to participate. 4 hours of curated content!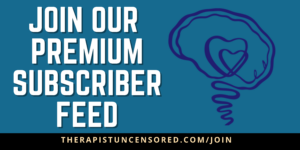 We have pledged 50% of all corporate profits & merch sales (very fun swag!) to organizations that support mental health access to those traditionally left out of mainstream healthcare.  We can only do that with the help of our Neuronerd private community.
By joining as a Neuronerd premium subscriber, you get a dedicated ad-free feed, deeper dives into select content and first shot at very unique study opportunities. If we've provided value then please check us out, poke around, make sure you feel comfortable and then join us today!