30-Day Emotional Health Challenge Update
In this episode of Therapist Uncensored, co-hosts Ann Kelley and Sue Marriott discuss their progress in their 30-Day Emotional Health Challenge.
If you haven't joined us in the 30-Day Challenge, you can start today by CLICKING HERE! No sales no gimmicks, just support for you to change!
Positive, Humbling, and Frickin' Hard
Ann discuses the positive activation around sharing and discussing the 30-Day Emotional Health Challenge.
Sue shares about the Challenge of the Emotional Health Challenge
 A bit ambitious because it is a deeply held unconscious learning
Working on Changing Adaptations From Early Childhood
The consensus in the Facebook group and among our Patrons is that we're picking something that was an adaptation from our early life. It was important that we learn to do it, but it's not necessarily helping us now.
The problem is it was laid down in our bodies so early and really without conscious thought, so even just thinking about it doesn't necessarily change it. Instead, we adapt to it, repress it, etc.
This leads to a cycle of recognizing something, acknowledging that it isn't working, and then repeating the behavior, which is induces shame.
Relief and Frustration
These behaviors are implicit (unconscious) not explicit (conscious), which makes them really hard to change.
The Process:
 Community connection
 Trying to teach ourselves to do something new
 Picking one thing, not everything, with love, compassion, and curiosity
 Examine the symptom or behavior that is no longer serving us
 Just learning about it and becoming more aware
Not trying to repress or change it
Try something new and continue to learn
 Are we resistant to changing? Reluctant to give up the old behavior? Etc
Adjusting the Emotional Health Goal
Sue discusses the zig-zag process of scaling her goal up and down based on her exploration process and how her thoughts about it changed after attending a conference with Bruce Eckert on Memory Reconsolidation. 
Two Particularly Helpful Takeaways From the Conference
We can't know our unconscious
Sue tests out whether or not The Memory Reconsolidation Technique is something we can do alone
Because the behavior is implicit, it comes from the unconscious, so there is no way to see it by ourselves.
But we can still move it by being curious about our responses and what comes up in the feelings of threat.
Seeing the effects of the implicit coming out in our explicit reactions and working to get more comfortable with it invites it in more.
State Dependent Learning
When we're in a regulated state, we have access to all this great knowledge and learned information.
As we get into a dysregulated state, the neural network shifts and it becomes a different learning. We really actually kind of lose contact for a moment with that more reflective stance. Especially if we come from a neglect or a trauma background or had tough things in life or had adversity.
We have these learnings that are on their own neural network.
Neural Networks and Changing Symptomatic Behavior
There are 2 different neural circuits, and the only way to change the symptomatic behavior is to access the other neural circuit.
This has to do with activation, so we have to actually feel the feelings to improve emotional health.
How Do We know What's Changing?
It starts with the behavior starts with the symptom. In recognizing the symptom that you want to shift, you've gone much more internal and you've named one part of it.
In exploring it, we are un-layering it, and we're smack dab on our which is to to go deeper and shift to more of a sense of security inside of you.
Who doesn't love special offers? Discounted course – It's Not Me It's My Amygdala! Advanced Course Connecting the Science(s) of the Mind to Interpersonal Relationships
Our advanced course on attachment and relational neuroscience has been recently released and is now available (wahoo)! Since you are now deep into these shownotes, then you are one of us, use the code OURCLAN for an immediate discount for the course.
This course is popular with clinicians (CE's available!), all who are interested in deepening security in yourselves and your relationships are welcome to participate. 4 hours of curated content!
Dive in and get more involved – join us on Patreon!
Join our exclusive community of Therapist Uncensored Neuronerds for as little as $5 a month!
Increase your access, join a kick-ass like-minded community, get discounts on our courses and get exclusive content.
Help us create a ripple of security by supporting us in freely sharing the science of relationships around the globe!
BOOK of the MONTH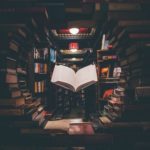 Maybe You Should Talk to Someone– A Therapist, HER Therapist and a Life Revealed, by Lori Gottlieb.
If you are looking for something to inspire you – make you laugh – tear up a bit and generally move towards being a better human this is the book we are recommending this month. Use the link above for a free audiobook!
LIKE this episode? Please please please leave us a review and rating on your podcast player. You also may enjoy these episodes related to emotional health:
TU30: The Stages of Change: A Roadmap to Readiness
TU88: 6 Steps to Increase Your Felt Sense of Security
TU08: Understanding Emotional Triggers: Why Your Buttons Get Pushed and What To Do About It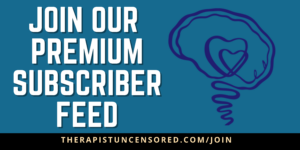 We have pledged 50% of all corporate profits & merch sales (very fun swag!) to organizations that support mental health access to those traditionally left out of mainstream healthcare.  We can only do that with the help of our Neuronerd private community.
By joining as a Neuronerd premium subscriber, you get a dedicated ad-free feed, deeper dives into select content and first shot at very unique study opportunities. If we've provided value then please check us out, poke around, make sure you feel comfortable and then join us today!