Podcast: Play in new window | Download (Duration: 1:03:19 — 43.5MB)
Subscribe: Apple Podcasts | Google Podcasts | Spotify | Amazon Music
How to build epistemic trust to shift internal working models and create more secure relationships.  Learn the science of trust and attachment.
Deciding who to trust in today's world is especially hard – fake news, political polarization and societal strife amplifies our already on guard nervous system. When our trust has been broken, whether early in childhood or in our adult relationships, learning who to trust can prove even more challenging. In today's episode, Dr. Steve Finn and Dr. Ann Kelley discuss the science behind epistemic trust and why many of us may have broken trust meters. They discuss how trust issues can create a mess in our relationship, whether we are the constant skeptic who resists taking in new information or we tend to trust blindly, without testing or holding healthy doubts. Together they provide deep and compassionate insights into these struggles and how they relate to internal working models. A fan favorite, Dr. Finn returns to bring his years of expertise to our listeners about ways to use science to build trust using curiosity and tools of mentalization, including our ability to handle healthy skepticism.
"I think curiosity is infectious. When we bring our curiosity…really trying to get into someone else's shoes, that creates an open door for epistemic trust" – Dr. Steve Finn
We all know that gut health impacts mood and brain function, but what the heck do you do to support gut health?  We've got you covered by partnering with our sponsor, Athletic Greens product, AG1.  AG1 is Ann and Sue's go-to once-a-day drink that delivers all the basics of important vitamins, minerals and probiotics. As a TU Listener, Athletic Greens is going to give you a free 1 year supply of immune-supporting Vitamin D and 5 FREE travel packs with your first purchase. Plus, supporting our sponsors supports the show, so go to www.athleticgreens.com/therapistuncensored or click HERE. 
The Science of Trust Ep 180 – About Dr. Steve Finn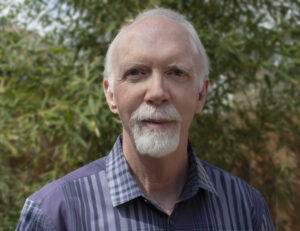 Dr. Steve Finn is a founder of the Center for Therapeutic Assessment, a licensed clinical psychologist in practice in Austin, Senior Researcher and Director of Training at the European Center for Therapeutic Assessment at the Catholic University of Milan, Italy, and Director of Training at the Asian-Pacific Center in Tokyo, Japan. He has published 90+ articles and chapters on psychological assessment, psychotherapy, and other topics in clinical psychology. In 2011 Dr. Finn was awarded the Bruno Klopfer Award from the Society of Personality Assessment for distinguished lifetime contributions to the field of personality assessment. In August 2017 he received the award for Distinguished Scientific Contributions to Assessment Psychology from Section IX (Assessment) of the Society for Clinical Psychology (Division 12 of the American Psychological Association). In 2018 he was honored with the 2018 Carl Rogers Award for outstanding contributions to the theory and practice of humanistic psychology from the Society for Humanistic Psychology (Division 32 of the American Psychological Association).
Time Stamps for the Science of Trust Ep 180
00:58 – Introduction to "Therapeutic Assessment"
07:25 – Importance of epistemic trust
08:45 – Two types of difficulties in epistemic trust
12:43 – How clients utilize control mastery theory
19:09 – One of the core values of TA – "curiosity"
25:14 – Spotting the difference between hypervigilant trust and hypovigilant trust
27:57 – Explanation of Fonagy's three virtuous cycles
46:40 – Analyzing epistemic trust in our society
Resources for the Science of Trust Ep 180
Therapeutic Assessment – Website
The Role of Mentalizing and Epistemic Trust in Psychotherapeutic Relationships – Fonagy, P. Allison, E. (2014)
Fonagy, P., Luyten, P., Allison, E. (2015). Epistemic petrification and the restoration of epistemic
trust: A new conceptualization of borderline personality disorder and its psychosocial
treatment. Journal of Personality Disorders, 29, 575-609.
Gergely, G., Egyed, K., & Király, I. (2007). On natural pedagogy. In G. Csibra & G. Gergely (Eds.),
Humans and culture: The origins of cultural knowledge and its transition mechanisms.
Monographs of the Psychological Bulletin, 11, 107-125.
Sperber, D., Clement, F., Heintz, C., Mascaro, O., Mercier, H., Origgi, G., & Wilson, D. (2010).
Epistemic vigilance. Mind & Language, 25, 359–393.
Fantini, F., Aschieri, F., David, R. M., Martin, H., & Finn, S. E. (2022). Therapeutic Assessment
with adults: Using psychological testing to help clients change.
New York: Routledge.
Finn, S. E. (in press). From unresolved to earned secure attachment: The AAP as a powerful
clinical tool in psychotherapy. To appear in George, C., Wargo Aikens, J., & Lehmann, M.
(Eds), Clinical application of the Adult Attachment Projective Picture System. Routledge.
(pre-print available from the author)
Kamphuis, J. H, & Finn, S. E. (2019). Therapeutic Assessment in personality disorders: Toward
the restoration of epistemic trust. Journal of Personality Assessment, 101(6), 662-674.
Tharinger, D. J. Rudin, D. I., Frackowiak, M., & Finn, S. E. (2022). Therapeutic Assessment with
children: Enhancing parental empathy through psychological assessment. Routledge.
Click here to view Steve Finn's Episode Transcripts  – Lightly edited for readability
Relevant Therapist Uncensored Episodes
TU51: Conquer Shame by Understanding the Science Behind the Feeling, with Guest Expert Dr. Steve Finn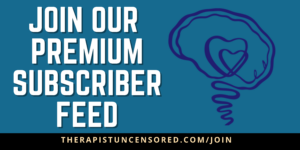 By joining as a Patron premium subscriber, you get

a dedicated ad-free feed, deeper dives into select content, extra episodes, and very unique study opportunities.
We have pledged 50% of all corporate profits & merch sales to organizations that support mental health access to those traditionally left out of mainstream healthcare.  We can only do that with the help of our Patrons. Please join us today! 
Thanks for stopping by, we hope the podcast adds value to your day.