Podcast: Play in new window | Download (Duration: 27:12 — 18.7MB)
Subscribe: Apple Podcasts | Google Podcasts | Spotify | Amazon Music
"Insight is the boobie-prize of therapy,"  Lori Gottlieb in today's episode.
There are many misconceptions and stereotypes about therapy.  In today's episode join co-host Sue Marriott and Lori Gottlieb's discussion and get a fast-take on how to use the experience to best get what you actually need.
"We are unreliable narrators of our own story. The parts we DON'T see are the ones that can help us the most."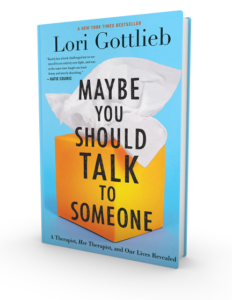 Loro Gottlieb joins co-host Sue Marriott LCSW, CGP for a discussion on the behind-the-scenes look at what therapy really is. In her NYT best-selling book, Maybe You Should Talk to Someone, Lori shared stories of several patients – including herself- and tells her own story about  seeking therapy and what she learned. She helps people understand how to solve their own problems, understand their behavior and actions, and tap into their "inner knowing" whenever they need it.
Too often people expect the therapist to just give them the solution but therapists actually wants to give people the tools to solve their problems as they come up. She shares her approach to therapy today, but also really gives us some background on how important it is to understand that we are telling our own story, and we have the agency to be able to change that narrative and use that to face down the issues in your life.
People go to therapy to unlearn themselves.
Who is Lori Gottlieb?
Lori Gottlieb is a powerhouse, and we are so honored to have her on the show.
She is a psychotherapist and author of the New York Times bestseller Maybe You Should Talk to Someone, which is currently being adapted as a television series.
In addition to her clinical practice, she writes The Atlantic's weekly "Dear Therapist" advice column and is co-host of the popular "Dear Therapists" podcast produced by Katie Couric. She contributes regularly to The New York Times and many other publications and in 2019, her TED Talk was one of the Top 10 Most Watched of the Year.
A member of the Advisory Council for Bring Change to Mind, she is a sought-after expert in media such as The Today Show, Good Morning America, CBS This Morning, CNN, and NPR's "Fresh Air."
People go in circles and end up in the same place, but they don't understand their role in the story might be quite different than they expect.
Lori Gottlieb episode details:
Being a therapist and also a human, breaking down the wall between the two.
How you may be an unreliable narrator in your own story.
Why it's important to understand and know that how you present your story – focusing on the process not the content.
Why the role you think you have might NOT be your ACTUAL role.
We have a choice in how we respond to issues and people in our lives.
"The most effective therapy is a rich human connection," Lori Gottlieb talking with Sue Marriott.
Resources:
Visit her website: LoriGottlieb.com
Grab her book, Maybe You Should Talk to Someone
Check out her Podcast, Dear Therapists
Her column, Dear Therapist in The Atlantic
Don't miss her writings in The New York Times!
Haven't gotten enough of therapy and therapists?
TU62: The Luv Doc – Dating and Relationship Advice from the Trenches with Dan Hardick
TU67: A Practical Technique to Calm and Confidence with Guest Richard Hill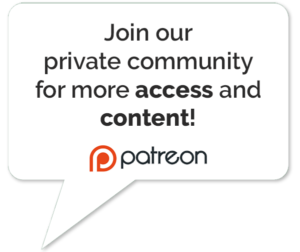 Don't forget, you are invited to join our Patreon. It offers so much extra content, like book clubs, study groups, but it also helps us keep the podcast running ad-free! We'd love to see you there.
Enjoy this episode: