Podcast: Play in new window | Download (Duration: 51:59 — 35.7MB)
Subscribe: Apple Podcasts | Google Podcasts | Spotify | Amazon Music
Aggression can be a good thing. 
It seems backward, right?  Aggression is not a feeling – it is a behavior that is frequently associated with feelings such as anger, fear and even hunger.  It is a vital energy that propels us forward with an intention. Aggression can be both a positive or negative resource to help us navigate our personal goals, increase intimacy within our relationships, and to act as a catalyst for change when paired with desire.
Follow along as Jeanne Bunker and Sue Marriott break down the negative connotations and provide perspective to harness this resource and help reclaim healthy aggression.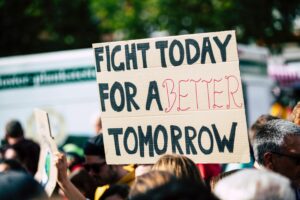 We're going to figure out how to use that aggressive energy – that life giving energy – to propel us forward. – Jeanne Bunker

Aggression is a potentially healthy life force   
Jeanne Bunker – internationally-respected group therapist and bad-ass martial artist
Jeanne Bunker
, LCSW, CGP, FAGPA, has had a psychotherapy practice in Austin, TX, working with groups, individuals, and couples since 1993.  Passionate about teaching and mentoring,
Jeanne
is a faculty member at the Center for Group Studies in NYC, a frequent presenter for the American Group Psychotherapy Association, has taught internationally (Russia, Romania, Spain), and conducts various ongoing training groups for clinicians. She writes about gender, women's concerns, oppression, and Modern Analysis. To support her own growth and balance,
Jeanne
studies and teaches Tai Chi and Kung Fu within the Shaolin-Do tradition.
Time Stamps for Healthy Aggression – Ep 186
2:47 – The definition of aggression
8:41 – Distinguishing between aggression and anger and other emotions
15:21 – Connection between aggression and desire
25:30 – The role of aggression in intimacy
30:25 – Creative and constructive versus destructive expression of aggression
37:51 – Example scenario: practicing healthy aggression
50:26 – How "call out culture" can be a defense
Resources for Healthy Aggression, Ep 186
The Center for Group Studies – NYC
American Group Psychotherapy Assn – excellent resource for training in group therapy
Other related Therapist Uncensored Episodes – or use the search button on our website to find your topics of interest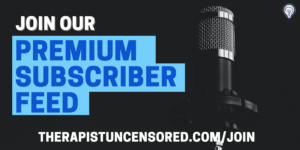 We have pledged 50% of all corporate profits & merch salesto organizations that support mental health access to those traditionally left out of mainstream healthcare.  We can only do that with the help of our Patrons. Please join us today!
By joining as a Patron premium subscriber, you get

a dedicated ad-free feed, deeper dives into select content and very unique study opportunities.
Sponsors who help make these episodes free and available to all – support them to support us!
FOR OUR LISTENERS AG1 is offering $30 off if you order by the end of September with our link.
We all know that gut health impacts mood and brain function, but what the heck do you do to support gut health?  We've got you covered by partnering with our sponsor, Athletic Greens product, AG1.  AG1 is Ann and Sue's once-a-day drink that delivers all the basics of important vitamins, minerals, and probiotics. As a TU Listener, Athletic Greens is gives you a free 1 year supply of immune-supporting Vitamin D and 5 FREE travel packs with your first purchase. Plus, supporting our sponsors supports the show which supports mental health access, so go to www.athleticgreens.com/therapistuncensored or click HERE. 

Like what you are hearing? Check out new videos of our full episodes and other bonus clips from the show on our Youtube Channel.Drop us a note there as well, we love hearing from you.
Thanks for stopping by, we hope the podcast (and these show notes) offer quality education and insight about interpersonal relating.  To spread the word about secure relating it helps to rate and review the podcast on our favorite podcast player or simply sharing this episode with someone you think could use the free therapy!