Hair-pulling, skin picking, and cheek, lip, & cuticle biting are self-soothing strategies that depending on degree can become body-focused repetitive behavioral disorders. Learn about a new attachment-informed psychodynamic model for treating these painful, shame-associated behaviors.
While we may not be fully aware when we are pulling and picking, these sorts of unconscious behaviors can be an indicator of dysregulation. Outside factors such as our environment, upbringing, and various traumas can all play a role in these self-soothing behaviors. Stacy Nakell has been an active researcher and pioneer in this field, and has dedicated years to understanding and educating others on how to abandon shame and treat these behaviors. By blending attachment theory and neurobiological research, Nakell has helped rewire the ways in which we navigate these behaviors and brought forward new perspectives like viewing BFRBDs on a continuum and how these overlap with body dysmorphic disorders.
Stacy Nakell's book Treatment for Body-Focused Repetitive Behaviors is the first to establish the theory and practice of a psychodynamic approach to treating body-focused repetitive behavior disorders. Follow along as Sue and Stacy discuss the misconceptions, treatments, and science to better manage these behavioral patterns.
"It's important to look from an in-depth perspective… to really get into the roots and understand what's driving the behavior" – Stacy Nakell
Time Stamps for Healing BFRBDs 
2:02 – Introduction to trichotillomania
7:26 – When these behaviors are considered a "disorder"
9:36 – The role of shame in repetitive behavioral patterns
11:56 – Are BFRBD's considered self-harm?
13:33 – The overlap with body dysmorphic disorders
17:36 – Correlation between grooming and BFRBDs
21:08 – Perfectionism's influence on BFRBDS
22:54 – The role of aggression in BFRBDs
31:14 – Metaphor of the stress cup
41:28 – Analysis of "psychic skin"
Resources for Healing BFRBDs 
Pop Culture Storyline Reference
Zoobiguity – Barbara Natterson-Horowitz
About Stacy Nakell 
Stacy Nakell is a psychotherapist in private practice in Austin, TX. For the past 20 years, she has worked with people who struggle with body-focused repetitive behaviors. Nakell is a Certified Group Psychotherapist and provides workshops and institutes locally with the Austin Group Psychotherapy Society and nationally with the American Group Psychotherapy Association.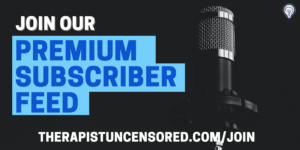 We have pledged 50% of all corporate profits & merch sales to organizations that support mental health access to those traditionally left out of mainstream healthcare.  We can only do that with the help of our Patrons. Please join us today! By joining as a Patron premium subscriber, you get a dedicated ad-free feed, deeper dives into select content, and very unique study opportunities.
Sponsors who help make these episodes free and available to all – support them to support us!
$75 credit alert for our listeners!  Ann and Sue aren't tech-savvy so they appreciate how easy it is to use and navigate Indeed.  It is the hiring platform where you can attract, interview,

and hire all in one place. Find top talent fast with Indeed's suite of powerful hiring tools like Instant Match, Assessments, and Virtual Interviews. Hate waiting? Indeed's US data shows over 80% of Indeed employers find quality candidates, whose resume on Indeed matches their job description, the MOMENT they sponsor a job. Start hiring now with a seventy-five dollar sponsorship credit to post your job post at Indeed.com/therapistuncensored
Dipsea is an app that brings you socially responsible sexy stories made by and for those who identify as women. Women often have sexual trauma on top of hurtful cultural messaging around sexuality, so finding a new product that can safely reconnect you to an important essence of yourself is very positive.  Dipsea promotes sexual and sensual health via imagination in a way that is safe, discreet, and respectful.  Reconnect to parts of you that might have been neglected, find things you didn't know you were into, or just gain more confidence in the bedroom, whether you have someone with you or not.  Check it out totally free using our link – this gives you a full 30 days to explore what they are all about dipseastories.com/tu or just click HERE.  
Thanks for stopping by, we hope the podcast (and these show notes) offer quality education and insight into interpersonal relationships.  An entirely free way to support us is to simply rate and review the podcast on your favorite podcast player, and/or to simply share this episode with someone you think could use the free resources on the show!