Do you have intimacy hiccups? Let's find out.
Ann and Sue were on a role w disarming defenses so while this one isn't technically in that 5 part series, let's call it a hanger-on.
OK, an important question: how you make a tuna sandwich. We are sure your way is awesome but…
Unless we think about it contextually, we believe our tuna technique is simply the "right" way.  This is true relationally, so how do we recognize interpersonal assumptions that we've never examined when they just seem like they are true and right?  When we make assumptions we literally don't know we are doing it because it just seems true. While having assumptions can sometimes be considered a way to keep us safe, they also can be a strong influence on our "intimacy hiccups".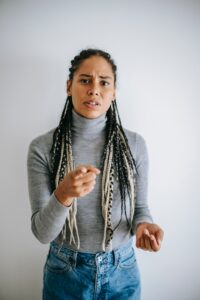 Assumptions block our view of seeing the whole perspective and equip us with a bias that can make our relationships difficult to navigate. Receiving feedback could become an assumption that you're under attack or not worthy, and can heighten our defenses. Whether your "moral compass" may get in the way, your assumptions form from cultural influence, or you even feel avoidant of those tougher conversations and just assume the other person is on the same page – no matter which defense resonates with you, this episode will probably hit on something relevant for you. Ann and Sue challenge you to just reconsider so you can relate in the most mindful way possible and not accidentally project your way as the "right" way.
"When you apologize… you're not actually above or below the other person – you're equal to the person. That's what being truly empowered is, and that's the assumption that we're busting." – Ann Kelley
Time Stamps for Busting Assumptions – Episode 188
3:30 – Navigating "intimacy hiccups"
9:03 – The importance of dropping ego during feedback
10:10 – Healthy relating example in parenting
16:36 – Softening your front to allow uncertainty
19:34 – Roles of cultural differences in assumptions
25:42 – The power in knowing how & when to apologize

We have pledged 50% of all corporate profits & merch sales to organizations that support mental health access to those traditionally left out of mainstream healthcare.  We can only do that with the help of our Patrons. Please join us today!
By joining as a Patron premium subscriber, you get

a dedicated ad-free feed, deeper dives into select content, extra episodes, and very unique study opportunities
Good sleep is related to so many good health and mental health outcomes, but we don't all have it easy when we try to fall asleep or stay asleep.  Nighttime rituals are important, try a cup of hot cocoa before bed that tastes good and is full of wellness ingredients that will help you sleep.  Beam includes 3rd party tested hemp free of THC, l-theanine, melatonin, and natural adaptogens to help your immunity. Get up to 40% off when you go to shopbeam.com/TU and use code TU at checkout. 

Interested in more content? Check out our full episodes and other bonus clips from the show on our Youtube Channel. Please like, comment & subscribe!
Thanks for stopping by, we hope the podcast (and these show notes) offer quality education and insight about interpersonal relating.