Podcast: Play in new window | Download (Duration: 1:12:22 — 49.7MB)
Subscribe: Apple Podcasts | Google Podcasts | Spotify | Amazon Music
There is an entire world within each of us. While we come together to create one functioning human being – what is really happening internally to make it all work?
Our entire existence is made of different systems – all collaborating to keep us operating healthily on a mental, emotional, and physical level. But what happens when the systems don't operate smoothly? Just like any system, there can be conflicts that can make the process significantly more difficult. These "parts" are entities or "little beings" that live in our minds and manifest into physical or emotional reactions from traumatic events. Dr. Frank Anderson has spent decades of his life studying these parts and sharing his findings to help others utilize built-in resources like their "self-energy" to navigate their own traumas. Follow along as Sue Marriott and Dr. Anderson weave together psycho-pharmacology, trauma, neuroscience, attachment, and internal family systems.
"Imagination is a very powerful neuroplastic agent. So the work that we do in IFS – which is very much imaginary – absolutely has neurophysiological effects on neural networks on the brain and on the body. It's a beautiful intersection between psychotherapy and neuroscience, and we have more evidence to show the ways they're linked together." – Dr. Frank Anderson
 Ep 182 – About Frank Anderson and IFS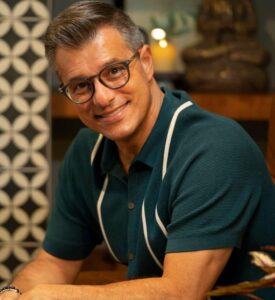 Dr. Frank Anderson is an author, psychiatrist, therapist, speaker and trauma specialist who's spent the past three decades studying neuroscience and trauma treatment. He was a psychiatrist as the Trauma Center in Boston under the direction of Bessel van der Kolk, and was able to learn more about trauma while simultaneously continuing his quest of helping others heal. After meeting Dick Schwartz at a conference his career focus instantly came into full alignment, and he was able to integrate his knowledge of neuroscience and trauma treatment with Internal Family Systems (IFS) therapy. Anderson was the former chair and executive director of the Foundation for Self Leadership, an organization focusing on IFS research and the expansion of the IFS model beyond psychotherapy and authored the chapter "Who's Taking What? Connecting Neuroscience, Psychopharmacology, and Internal Family Systems for Trauma." He is the lead trainer and consultant for the IFS Institute, an advisor to the International Association of Trauma Professionals (IATP), and maintains a private practice. He is passionate about teaching, enjoy providing therapy consultations and trauma informed IFS-related workshops throughout the world.
Time Stamps for Ep 182
4:12 – Frank's explanation of IFS
8:07 – Introduction to the concept of "self-energy"
17:27 – The neurobiology of PTSD & disassociation
30:31 – Frank's unconventional views on attachment
41:46 – Key components of IFS that are essential for healing
46:25 – The IFS training process
51:57 – Finding an IFS certified therapist
Resources for Ep 182
IFS Group Consultation Course – Training
Webinars on Various Topics – Training
The Arc of Healing Trauma – Online Course
"Internal Family Systems: Skills Training Manual" – Book
Relevant Therapist Uncensored Episodes 
TU112: The Life-Changing Science of Memory Reconsolidation with Guests Bruce Ecker & Tori Olds
CLICK HERE FOR FRANK ANDERSON TRANSCRIPT – Episode 182  – Lightly edited for readability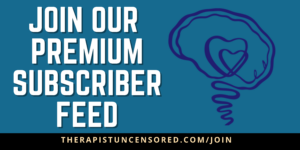 We have pledged 50% of all corporate profits & merch sales to organizations that support mental health access to those traditionally left out of mainstream healthcare.  We can only do that with the help of our Patrons. Please join us today!
By joining as a Patron premium subscriber, you get

a dedicated ad-free feed, deeper dives into select content, extra episodes, and very unique study opportunities.
Sponsors who help make these episodes free and available to all –
We all know that gut health impacts mood and brain function, but what the heck do you do to support gut health?  We've got you covered by partnering with our sponsor, Athletic Greens product, AG1.  AG1 is Ann and Sue's once-a-day drink that delivers all the basics of important vitamins, minerals, and probiotics. As a TU Listener, Athletic Greens is gives you a free 1 year supply of immune-supporting Vitamin D and 5 FREE travel packs with your first purchase. Plus, supporting our sponsors supports the show which supports mental health access, so go to www.athleticgreens.com/therapistuncensored or click HERE. 
Dipsea is an app that brings you socially responsible sexy stories made by and for those who identify as women. Women have often have sexual trauma on top of hurtful cultural messaging around sexuality, so finding a new product that can safely reconnect you to an important essence of yourself is very positive.  Dipsea promotes sexual and sensual health via imagination in a way that is safe, discreet and respectful.  Reconnect to parts of you that might have been neglected, find things you didn't know you were into or just gain more confidence in the bedroom, whether you have someone with you or not.  Check it out totally free using our link – this gives you a full 30 days to explore what they are all about dipseastories.com/tu or just click HERE.  
Thanks for stopping by, we hope the podcast (and these show notes) offer quality education and insight about interpersonal relating.