Podcast: Play in new window | Download (Duration: 1:01:28 — 42.2MB)
Subscribe: Apple Podcasts | Google Podcasts | Spotify | Amazon Music
Discipline is about teaching, not punishment. 
Children are sponges. They are constantly soaking up information about themselves, their relationships and their future.  And parents are the most powerful influences on these messages, so what we do really matters. Knowing this, sometimes we double down on trying to assert our wisdom, hammer a point home, or stop an unwanted behavior in it's tracks. After all, we want to raise kids who are kind, responsible, caring, and independent. The trouble is, if we are acting out of fear, being fueled by anger and reactivity, it's likely we aren't having the impact we truly desire. For kids to learn, they need to feel emotionally safe and cognitively open. For this to happen, parents need to start by cultivating their own self-awareness and emotion management.
In today's episode, learn powerful strategies for parenting even during the most difficult moments. Ann Kelley, Kat Scherer and Elizabeth Sylvester discuss ways of integrating attachment and neurobiology into disciplinary styles that work and build balance in our relationships. Throughout the episode, Dr. Scherer and Dr. Sylvester highlight some of their most effective parenting strategies discussed in their recent book, Relationship-Based Treatment of Children & Their Parents: An Integrative Guide to Neurobiology, Attachment, Regulation, and Discipline.  Specifically, they dive deep into the "7 Essential Attachment Needs" for children's optimal development, emphasize the importance of repair in relationships, and discuss the building blocks of secure parenting.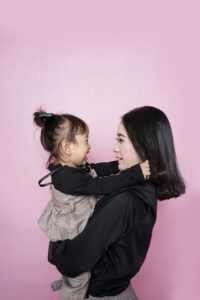 "When limits are set firmly, but kindly, this fuels healing in the attachment relationship."  – Dr. Elizabeth Sylvester
Time Stamps for Relationship-based treatment
1:05 – Breaking down the title of their book, "Relationship-Based Treatment of Children & Their Parents"
4:43 – The integration between attachment and discipline
8:52 – Finding balance with a high-intense child
11:31 – Rethinking the way we view dysregulation
16:38 – The 7 essential attachment needs
24:58 – Recognizing the importance of "the repair"
35:47 – Discipline is learning
39:08 – The effects of "fear-based" discipline
45:08 – The role of "novelty and play"
51:49 – The power in empowered parenting
Resources for Relationship-based treatment
Relationship-Based Treatment – Youtube Channel
Website Link – Relationship-Based Treatment
The Nurtured Heart Institute – Website for the Nurtured Heart Approach
 mindGAINS – Website for the Global Association for Interpersonal Neurobiology Studies
Dr. Elizabeth A. Sylvester – Website
Dr. Kathy Scherer – Website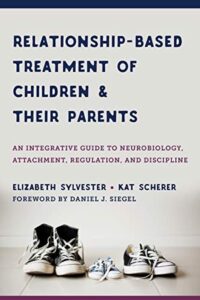 About Dr. Elizabeth Sylvester & Dr. Kat Scherer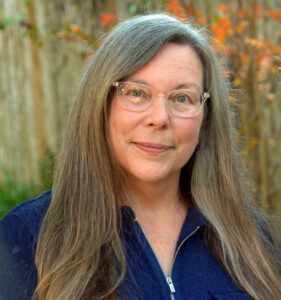 Dr. Elizabeth Sylvester is a Psychologist and Educator working with children, parents, and families in Austin Texas for over 30 years. She is a practitioner of the Nurtured Heart Approach ®, and has completed advanced training in this system.  Her specialty is providing parent training and child psychotherapy for children and teens who are highly behaviorally and emotionally intense.  In addition to her clinical work, Dr. Sylvester facilitates training for professionals and the public on parenting, and child and adolescent psychotherapy.  She has a particular focus on the interaction of relationships and neurobiological development with mental health and behavior. She has presented in a variety of settings including universities, professional organizations, mental health agencies, and community organizations. In collaboration with Dr. Kathy Scherer (a founder of Austin IN Connection), she created the Heart & Work series of writings, presentations, and workshops. Dr. Sylvester is a co-founder of Austin Child Therapy, an organization whose mission is to support the work of pediatric mental health professionals in Austin.

Kathy (Kat) Scherer, Ph.D., MFT, C-IAYT is a Psychologist, Educator, and Author working in Austin for over 25 years. She is a psychotherapist in private practice and offers presentations on topics such as interpersonal neurobiology, family attachment, social-emotional development, and the application of yoga and meditation for stress management. Her presentations have been offered at a wide variety of settings including universities, professional conferences, community centers, and schools. Dr. Scherer is a co-founder of Austin IN Connection and its Family Matters program, both Austin area multidisciplinary organizations focused on emotional health and positive relational attachments. She co-hosts the Heart & Work Series of writings including two collaborative mental health blogs (with Drs. Holt & Sylvester):  Therapy Matters and Heart & Work of Parenting.
Sponsors who help make these episodes free and available to all – support them to support us!
Cozy Earth Bedding is made using the finest, premium viscose from highly sustainable bamboo. Their bedding is naturally-temperature-regulating, so you'll sleep comfy all year round. Plus, every Cozy Earth bedding item comes in a beautiful, reusable canvas bag! No gift wrapping is required! Cozy Earth also has a Luxurious LoungewearCollection from their ultra-soft lounge pants, tees, and pajamas for women…  to their popular joggers, pullover crews, and hoodies for men — Cozy Earth loungewear is designed to flatter every body type.  And check out their premium plush and waffle bath towels… you'll love those, too.SAVE forty percent NOW on Cozy Earth bedding, loungewear, pajamas, and towels. Hurry, the holiday offer ends soon. Go to

Cozyearth.com/TU
We all know that gut health impacts mood and brain function, but what the heck do you do to support gut health?  We've got you covered by partnering with our sponsor, Athletic Greens product, AG1.  AG1 is Ann and Sue's go-to once-a-day drink that delivers all the basics of important vitamins, minerals, and probiotics. As a TU Listener, Athletic Greens is going to give you a free 1 year supply of immune-supporting Vitamin D and 5 FREE travel packs with your first purchase. Plus, supporting our sponsors supports the show, so go to www.athleticgreens.com/therapistuncensored or click HERE.