Podcast: Play in new window | Download
Subscribe: Spotify | Android | RSS
The Intersection of Narcissism & Abandonment.

Four bricks to a narcissistic relations: Fear, Hope, Guilt and Lack of Knowledge.
Is narcissism related more to preoccupation or a dismissing state of mind regarding attachment?  You may be surprised.  Learn more about the science of narcissism, abandonment and it's relationship to attachment theory. Dr. Durvasula shares her deep study into these dynamics and her experience-based wisdom on working with those struggling with it as well as those in relationship to those who have high narcissistic tendencies.
If you enjoyed our podcast series Holding Your Own with Challenging Personalities, then you are gonna love this episode – it only deepens and expands on the ideas presented there.  See #6 of our 6 part series on Holding Your Own in Challenging Relationships.
Dr. Ramani Durvasula joins co-host Sue Marriott LCSW, CGP for a discussion on breaking down narcissism and abandonment.  Sue found Dr. Ramani accidentally in a video she stumbled upon where she was a consultant to Will Smith in The Red Table Talk Takeover.   The video was about responsibly confronting a difficult relationship.  She is an excellent clinician that brought professionalism and deeper insight into a high-impact Hollywood story such that helps the public appreciate mentalization and the skills involved in managing difficult relationships.
There are presentations of narcissism that are post-traumatic, but there is also narcissism that comes from over-indulgence.  Cringe… both neglect and too much attention?  Don't worry, we will explain how to hit the right note here.
Who is Dr. Ramani?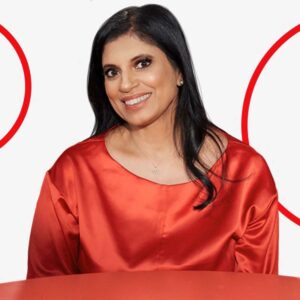 The focus of Dr. Ramani Durvasula's clinical, academic and consultative work is the etiology and impact of narcissism and high-conflict, entitled, antagonistic personality styles on human relationships, mental health, and societal expectations.  She has spoken on these issues to clinicians, educators and researchers around the world. Her work has been featured at SXSW, TEDx, and on a wide range of media platforms including Red Table Talk, the Today Show, Oxygen, Investigation Discovery, Bravo, and she is a featured expert on the digital media mental health platform Med Circle.
To be clear, Dr. Durvasula's is not just psychologist for Hollywood.  Her research on personality disorders has been funded by the National Institutes of Health and she is a Consulting Editor of the scientific journal Behavioral Medicine. Dr. Durvasula has also been a participant in the governance of the American Psychological Association, and most recently as the Chair of the STAY-MHSAS Training Advisory Committee of the Minority Fellowship Program.
Most attractive to our audience, who let's say … values authenticity, is that she has been described as "brutally honest" when it comes to calling out incivility and selfishness in relationship.
If narcissists are so confident why are they afraid of abandonment? Trust us – it's a driving force.
Episode details on narcissism and abandonment:
Dismissing states of mind and preoccupation in relationship to attachment and self-centeredness.
How narcissists mirror rather than empathize and why that matters so much.  (This is a good way to discern what you are dealing with and to check yourself.)
Four main bricks of a narcissistic relationship.
The 90 / 10 rule in narcissistic relationships, a great Dr. Ramani idea and suggestion!
Self-awareness in relationships – how to cultivate self versus other focus.
If you are the one with narcissistic tendencies – thanks for digging into this, that is very cool!  What to do.  (Remember to also check out Therapist Uncensored series on Holding Your Own with Challenging Personalities, referenced above.)
Healthy narcissism.
Diagnosis concerns & personality disorders.
Core behaviors of those with high narcissism.
Help for those in relationship with those highly involved with themselves. 🙂
How the educational systems can foster narcissism.
We spend 90% of our time on difficult people, leaving only 10% for the good ones.

Switch the math!
Resources:
https://openpsychometrics.org/tests/NPI/
https://www.psychologytoday.com/us/blog/guide-better-relationships/201908/insecurity-narcissism-and-the-culture-victimhood
"Don't You Know Who I Am": How to Stay Sane in the Era of Narcissism, Entitlement and Incivility.
Should I Stay or Should I Go:  Surviving a Relationship With a Narcissist,
http://doctor-ramani.com/contact/
Her series with Jada Pinkett Smith & family on the Red Table Talk series –
Haven't gotten enough of learning about challenging people?
TU111: Navigating Narcissistic Relationships – Gaslighting Manipulation and Grandiosity Called Out
TU105: Narcissism – What is Going on Under the Defense with Sue Marriott and Ann Kelley
TU13: Our Powerful Fascination With Narcissism In The Era Of Trump