Holding Your Own with Challenging Personalities – staying (or becoming) secure in relationship with those with the most severe sort of personality structure – malignant narcissism.
Session 5 – Staying safe with those with high psychopathology or malignant narcissism
Accusations are their confessions. In this episode learn why we elect, promote, excuse and love those with malignant narcissism and its tendencies. Sort out the other forms of self-involvement, psychopathology and anti-social traits from this dangerous personality structure. Sue & Ann finish out their series on Holding Your Own with Challenging Personality Traits – this is session 5 of 6. Find more here www.therapistuncensored.com
Five Points from Malignant Narcissism:
We all have elements of self-centeredness and narcissistic traits. However, when it becomes more engrained into our personality structure, that is where the problems can arise. Narcissism, at its core, involves a sense of entitlement, exploitation and extreme self-focus that loses touch with one's ability to see the needs of others.
Grandiose and covert narcissist can become so self-involved that they can completely dismiss others in extremely painful ways as discussed in our previous episodes. However, they generally continue to hold relationships in value. Their primary difficulty lies in the tendency to idealize and devalue, which often leads to feeling misunderstood and mistreated. Thus, they can lack guilt because they often see themselves as right or the victim to injustice. However, when they do discover that they have wronged someone, they can feel significant guilt and shame.
In malignant Narcissism, there is a general void of guilt and shame. Instead, there is a combination of antisocial traits, paranoia and vindictiveness that often leads to acting out in intentionally harmful ways. In Malignant narcissism the value placed on others is primarily based on utility – what others can do for them. The relational aspect is void. They do not have access to guilt of felt shame. This has been cut off.
Malignant narcissist expects extremely loyalty at all costs. Loyalty to them, not to ideals.  If you are with me you are with me! If not, you are against me. This type of thinking leaves open rational for retaliation and extreme  vendictivness. 
One way to know if our relationship, family, company or country is being run by a malignant narcissistic ruler, is to recognize that those under them are in a constant state of fear and threat of the disloyal "other".   In many countries across the world, including the US, we have found ourselves and our nervous system in a constant state of threat and fear. This divides us. The "other" is a source to mistrusted to be fought against. 
One sign of a malignant narcissist is the cool and coldness with which they can seek revenge in a calculating manner. If you are in a relationship and you see signs that he/she justifies revenge for mistreatment, that is something to take not of, especially if this revenge is sought with a sense of pleasure at the suffering of the other.
If in a relationship with someone that has malignant narcissism, there is little hope of change. The focus must be for you to protect yourself, seek support and safely get out of the relationship. They may use their sense of loyalty and disloyalty as a weapon to keep you in. Remember, loyalty should never involve fear of retribution. 
As we finish out this series, we know you  now have a good understanding of some of the challenging styles to engage in relationship and we've saved the toughest for last.  In this episode we sort out the difference between self-centeredness, narcissism, anti-social personality and malignant narcissism.
This series builds on itself so we recommend that you listen to the previous sessions first before jumping into this episode, but if that isn't your cup of tea, then by all means, the episode will be solid on it's own. 
To start at the beginning & hear the previous episodes in the series click here: Session 1 (Messy but secure), Session 2 (grandiose narcissism), Session 3 (covert narcissism) or Session 4 (borderline traits) 
Power dynamics in this form of narcissism 
Difference between anti-social characteristics, psychopathy and malignant narcissism.
Differentials between the types of narcissism – keys regarding how to discriminate between covert grandiose and malignant.
Hallmarks – vindictiveness malice & cruelty
Warning to therapists – empathy can be a sign of weakness not connection
Intense initial courting may be a foreshadowing of control.
What does shame and guilt have to do with how challenging personality traits show up?
Projected relationality as the bridge to staying trapped
Knowing your truth
The biology of threat and induction to passively follow a "strong" leader 
Resources –
Hey friends – we know most of you aren't in this situation but if you are we want to be a resource.  We can't say if you should or shouldn't leave – that's a highly personal and seriously safety-dependent question.  However we can say that we believe you, you aren't alone, and there is support once you get ready for that.
United States:  Click the image to the left for help!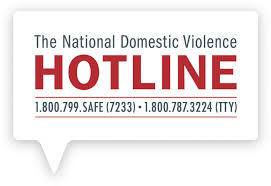 Not in the US, no problem:  International lines for domestic violence help click here 
Many areas have local resources so look for those as well.