Podcast: Play in new window | Download
Subscribe: Spotify | Android | RSS
People are profoundly bad at predicting their own attachment status, and if you are trying to do that you are headed in the right direction.  🙂  That sort of mindful inquiry is part of attachment security – learn more in today's episode about what the Strange Situation can still show us.
Learning about attachment can be scary – it's easy to find the labels and grab & go, holding on to traits as an identity.  Am I insecure?  Is my partner?  Oh my God I know I'm screwing up my kid!!  In this episode, Bethany Saltman joins co-host Sue Marriott to bring you surprising good news.  They explore her story of digging into the origianl attachment research that is captured in her new book, the Strange Situation A Mother's Journey into the Science of Attachment. Together, they dive into the hidden history of attachment theory, what it means to be a parent, and how we can each become more secure.
GIST:  A scared non-therapist parent went on a journey to learn how to deliver the best for her child, but in the process uncovered so much that even most attachment-oriented therapists don't know.  Her tale brings Mary Ainsworth's work to light and gets us back to the basics when it comes to promoting security.  It all boils down to a few important things…
Who is guest Bethany Saltman & why her?
She can teach non-therapists and therapists alike a thing or two about attachment.
Bethany Saltman is a writer, a communications director, and a mindfulness mentor. She's a practicing Zen student, and a mother, which is what sparked her interest in mindfulness and attachment. While she doesn't have a PhD or any fancy letters after her name, she is a great contributor to and promoter of attachment understanding and the fine art of paying attention.
What is the Strange Situation?
The Strange Situation is the original attachment research begun in the 1970's conducted by Mary Ainsworth.  She was a colleague of John Bowlby and the first to empirically test his ideas about attachment and bonding.
The famous protocal basically involves the parent of a toddler ultimately stepping away leaving the child alone for a few minutes. Observers carefully observe the toddler's reaction in a one-way mirror and are looking at the child's reaction to the separation, their play and most importantly their reunion.  The most important part of the Strange Situation is what happens when the parent comes back in the room. How long does it take for the child to calm back down? How does the child treat the parent who left?  The answer to this array of questions turns out to be the foundation of the attachment categories.
The Attachment Categories
Most basically:  Secure and Insecure.
More specifically Secure, Anxious-Avoidant Insecure, Anxious-Ambivalent Insecure and later… Disorganized/Disoriented.
Ainsworth's student Mary Main confirmed her suspicion of the 4th category and went on to develop measures of attachment in adults that turn out to be related to those in childhood.
Therapist Uncensored's Sue Marriott and Ann Kelley have talked about the adult version of attachment using a spectrum rather than quadrants.  They do this to help bring the research to life and make it practical for use in session and in the lay public's real life.  Listeners of the podcast will recognize this foundation in the Modern Attachment-Regulation Spectrum that helps see the interaction of attachment styles and regulatory states with one another.
Ainsworth's work validated Bowlby's ideas in an observalbe way and really put his theory on the map.  It has since been repeated prolifically – and is considered universal regardless of their socioeconomic status, national background, or parents parenting style.
The good news
People are profoundly bad at predicting their own attachment status, and if you are trying to do that you are headed in the right direction.  🙂  That sort of mindful inquiry is part of attachment security.
So what can I do with the research?
Surprisingly, the best way to help ensure your child has a secure attachment is to attune to YOUR OWN experience. Being able to be present, both with your child and with yourself, dramatically improves the way your child relates. As parents, we can't give what we don't have. We can't be present with our kid's needs and emotions if we can't be present with our own.
So learn to explore and probe and think deeply about your own messy feelings and experiences! Humans have complex emotions and reactions and that's all natural. But trying to ignore or push off those messy parts will only make it harder to relate and connect with not just your kids but also the other adults in your life.
Resources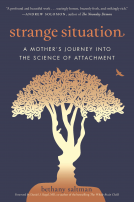 www.bethanysaltman.com
TWITTER: @bethanysaltman
INSTAGRAM: @bethany_saltman
Guess what? Her book STRANGE SITUATION: A MOTHER'S JOURNEY INTO THE SCIENCE OF ATTACHMENT (with a Foreword by Dr. Dan Siegel) was named One of the Best Science Books of 2020 by New Scientist! And BOOKLIST gave it a STARRED review! Washington Post said it's one of ten books to read in April. It's available now!
Like this episode, here are a few more you may be interested in…
TU09: Minding Your Relationship- Three Mindfulness Exercises to Practice With Your Partner
TU128 – Helping the Intense Child: The Nurtured Heart Approach
TU125 – Dan Siegel & Tina Payne-Bryson: Parenting Under Stress
Need CEU's??  We've got you covered, use OURCLAN for 10% off –

FOUR hours of quality content and 3 CE's available to professionals. Since you are this deep into our show notes, then you are indeed one of our peeps and thus invited to be part of our clan  GET 10% off this signature course by using code OURCLAN!  –
To get more of this kind of in-depth discussion with quality content and real-world healing – join us on FB where you can find more of your peeps.  Want even more than that?  Join our Neuronerd Patreon community at patreon.com/therapistuncensored for as little as $5 per month.   Join us now.