Ann and Sue's reflections on the past 5 seasons with the theme of Growing Security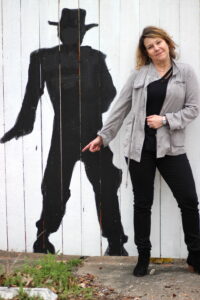 In today's episode, Sue Marriott and Ann Kelley conclude their fifth season, and it's all because of our listeners and audience that we've been able to maintain our Apple Top 10 Social Science (independently produced!) podcast.  We've had many brilliant people on for interviews, and today we're going to talk about some of the highlights of these episodes since it's unlikely that you may have heard all 150 episodes. We're doing this podcast because we're excited about it, we're passionate about it, and we are creating this content for ANYONE to help you grow security in your life. It's a GLBTQI+ inclusive, female-led, independently produced show that will always be FREE to everyone (not on paid platforms), and we will try our best to remain AD-FREE thanks to our patrons.  The general theme is all about deepening security in yourself and your close relationships.
Use the search button on our website to find topics you enjoy.
We are working to lift under-represented voices so if you have a recommendation for a guest we may not know about, send us a note. We continue to value sharing the privilege of the mic.  As July is BIPOC Mental Health month (see below for resources and detail), we highlight several episodes on Hip Hop, community-based treatment and the story of resilience shared by Alphaso Appleton from Liberia.
Looking Back on 150 Episodes to help you grow security in your relationships:
TU133: Holding Your Own 1: Messy but Secure Relating
On the Holding Your Own series, most frequent comment was an appreciation of basic humility in discussing mental health. Many of you think it's refreshing that the podcast is about content not about personalities.
TU 149: Modern Attachment Regulation Spectrum – An Integrated Model of Change
TU130 – The Deep Biology of Love – Oxytocin Unpacked, with Research Pioneer Dr. Sue Carter
The fact that Dr. Sue Carter launched the study of oxytocin makes ME happier!
TU93: Polyvagal Theory in Action – The Practice of Body Regulation With Dr. Stephen Porges
TU110: Story Follows State – Investigating Polyvagal Theory with Guest Deb Dana
TU117: Resilience Trauma and the Brain W/ Guest Bruce Perry MD, PhD
TU106: What Actually Heals in Therapy with Psychoanalyst Nancy McWilliams
The difficult person we struggle with may be evoking the parts of ourselves that we hate.  It could be a disowned part that we have shame about, and we're seeing a mirror.
TU141: How We Become the Person's We Are with Dr. Alan Sroufe, Attachment Through the Lifespan
TU56: How We Come to Define Ourselves – Attachment Research Over Decades with Guest Alan Sroufe
He talked about getting to know who we are, and our own authentic self. He's a preminent attachment researcher in the field.
TU89: Neurofluency – with Dr. Lou Cozolino, Applied Neuroscience Made Understandable
One of the things Lou said that stuck with me was "You have to get in touch with your own flexibility, and tolerate the anxiety of your own ignorance."
TU145: Class, Race, Culture and Attachment, Re-examined
It's about being a good learner
TU51: Conquer Shame by Understanding the Science Behind the Feeling, with Guest Expert Dr. Steve Finn
TU81: How Good Boundaries Actually Bring Us Closer, with Guest Juliane Taylor Shore
She talks about the Jello Wall, between you and something else to help think.. is this about me?
TU63: Living with Cancer – The Six Principles of Emotional Healing with Guest Kelly Inselmann
TU64: Mindfulness Meditation with Yoga Therapist Kelly Inselmann, Bonus Episode
TU42: Sexual Vitality, Refreshing our Understanding of Sexual Health with Doug-Braun Harvey (Part 1 of 2)
TU43: Sexual Vitality – Six Principles of Sexual Health with Doug Braun-Harvey (Part 2 of 2)
Reframing "losing your virginity" to acknowledging your "sexual awakening".
TU69: Exploring Intersecting Genders – What We Can All Learn with Guest Li Brookens
We are proud to be LGBTQ+ welcoming in all of our content.  The intersecting gender episode w Li Brookens was really impactful (we wonder if it remains fresh and up to date re: language though since it's a few years old).
TU139: Boys and Sex, Modern Young Men and Sexuality with Peggy Orenstein
TU128 – Helping the Intense Child: The Nurtured Heart Approach
TU38: The Blended Family – How to Create Strong and Lasting Step-Family Relationships
This is a resoruce for anyone dealing with blended families to avoid high conflict through stress. Each position deserves a ton of compassion – the biological parent, the step-parent and the child.
TU23: Building Grit Through Self Compassion with Dr. Kristin Neff
TU125: Dan Siegel and Tina Payne-Bryson on Presence in Times of Stress
TU27: Raising Secure Children With Guest Tina Payne Bryson
TU62: The Luv Doc – Dating and Relationship Advice from the Trenches with Dan Hardick
One of the pieces of advice that was powerful on ideal love was to look at your list of who you want. Could YOU live up to that list? Look at your own date-ablility, add some humility and hope and work from there.
TU120: Finding Security and Healing Attachment with Dr. David Elliott
TU34: Treating Attachment Difficulties with Dr. David Elliott
We have forged a wonderful friendship and writing relationship with David Elliott. Highly recommend 34 and 120, in 120 he demonstrates the Ideal Parent Figure Protocol.
TU 87: Treating Complex Trauma and Attachment with Guest Dr. Daniel Brown
TU03: Different Sex Drives – Are We Screwed?
One of the big hints for this one is that when you have two people with different drives, acknowledge the loss to the other person. Example, "I know you would rather be having more adventurous sex and that part so far hasn't working out for us. It must be hard for you, and it means a lot to me that you are setting those desires aside while I work out what I am comfortable with."  Dose those acknowledgements generously and it'll save you a few years in therapy.
TU85: Attachment in the Classroom with Guest Linno Rhodes
TU119: For the Love of Men, Rethinking Masculinity with Liz Plank
It's important to talk to men about overturing the patriarchy. It's not a gender war, it is a war between those who are wedded to a power-over heirachal system and those who are fighting for mutuality, raising voices of the under-represented and having freedom in individual expression.
TU12: If It's Not Good For You; It's Not Good for Us – Interview With Relationship Expert Stan Tatkin
TU121: Redefining the Purpose of Relationships During Quarantine with Stan Tatkin
TU07: What is Group Therapy and 5 Reasons You Should Try It
Group Therapy is one of the most powerful things you can do.
TU22: Love Letter To Group Psychotherapy
TU17: The Biology of Motivation and Habits – Why We Drop the Ball
We're not weak, humans just don't really have a lot of willpower. It comes down to the fact that if you entertain eating the marshmellow, if you hold an internal  debate about it, you will likely give in. It's about fatigue.
TU91: Curiosity – One of the Most Powerful Tools For Connection
TU124 – Hip Hop as Therapy: Beat Making, Lyrics & Community Empowerment
I was super anxious to offend, but it was deeply important and I loved it because I grew so much.
TU127 Grandma Heals: Community-Based Mental Health Care from Zimbabwe with Dr. Ruth Verhey
It was a great way to highlight community based care that is highly effective treatment.
You can find a whole category with Narcissism.
Discussing Race, Class & Privilege
Episodes: 20, 109,123, 124, 127 & 145.
---
Next Season Highlights:
We're exploring a series called "Therapy Vitamins" ie. super short snippets with no fluff at all to give you healthy little secure relating snacks, nutrients for you, your life, your relationships.
We're excited for our upcoming episode with Carol George, originator of several attachment instruments including the Adult Attachment Projective. You will LOVE this discussion on adult attachment, so stay tuned.
Over the break, we are focusing on our online community group of Patreon neuronerds and finishing this dang book we are working on!
However we will continue to publish some must-not-miss or worth-hearing-again episodes as replays!
---
As a reminder, July is Bebe Moore Campbell National Minority Mental Health Awareness Month, also known as BIPOC Mental Health Month. Formally recognized in June 2008 (and still currently recognized today), Bebe Moore Campbell National Minority Mental Health Awareness Month was created to bring awareness to the unique struggles that underrepresented groups face with regard to mental illness in the U.S.  Bebe Moore Campbell was an American author, journalist, teacher, and mental health advocate who worked tirelessly to shed light on the mental health needs of the Black community and other underrepresented communities.  To continue the visionary work of Bebe Moore Campbell, each year Mental Health America (MHA) develops a public education campaign dedicated to addressing the mental health needs of Black, Indigenous, and People of Color (BIPOC).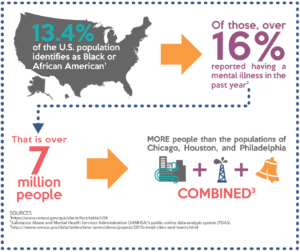 Resources for BIPOC Mental Health Month:
You are invited to join our private online community through Patreon. It offers extra content and access, including reading groups…  Super cool – it also helps us keep the podcast running ad-free! We'd love to meet you there.
Enjoy this episode? Please share, or rate/review – a powerful way to help us expand our reach.